Managing project insurance requires analysis of the risks associated with a project and understanding of various insurance protections available to mitigate such risks. Large projects which involve civil, electrical or mechanical works always entail special handling of risks and while onsite safety and health issues are the prerogative of a vertical domain expert, other risk management exercise including transfer of risk through insurance fall under the purview of the risk manager. Contractorsí All Risks Insurance, Erection All Risks, Contractorsí Plant & Machinery, Delay in Start up, Decennial Liability, Professional Indemnity and Project Cargo Insurance are some of the many protection available which must to be used in combination with one another to manage such risks. The risk manager is always faced with difficult choices; which insurance policies, what coverage, what limits, what deductibles and the dilemma continue.

Construction projects like any other risks require a balance of risk control and risk financing as part of ongoing risk management exercise. Feasible options under risk control technique are loss prevention, loss reduction and risk transfer. Loss prevention requires adequate safety measures to be kept in place so that losses can be prevented from happening in the first place. Losses however do occur despite best loss prevention measures in place and therefore loss reduction techniques are applied in order to mitigate the losses after it happens,. Another way to control the risk is to contractually transfer the risk to a third party, e.g. a subcontractor or other parties to the contract.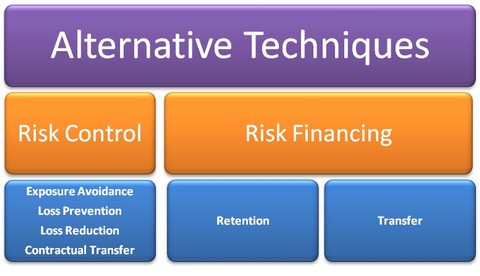 Risk financing on the other hand deals with situations when losses need to be absorbed or appropriated between the parties contractually responsible for the risk. The owner or principal of a project may decide to retain the risk and finance the losses through either on-balance sheet or off-balance sheet provisions. Alternatively, he may transfer the risk to an insurance company. Normally, a prudent risk financing programme requires a mix of risk transfer to an insurer coupled with certain amount of retention.

Identifying Risks

There are four main parties to a construction project; (a) Project Owner (b) Main Contractor & subcontractors (c) Architects, Engineers & Designers and (d) Banks and Lenders. All the stakeholders have different interests in the projects and accordingly the risk profile varies.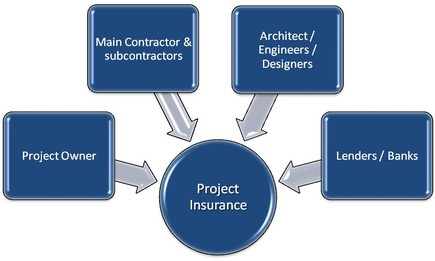 Copyright © Manoj Kumar


Project owners run the potential risk of losing investment if a major peril strikes. They are also faced with the risks of consequential losses due to the delay in start up and inherent defects in the structure which may cause losses to the owners. They may however transfer the risk to the main contractor. The main contractor and its subcontractors are then not only susceptible to the losses arising out of risk transfer from the owners but also have to live with the risks of material damage to works, principalís existing property and surrounding third party property. They are further exposed to the loss of their own manpower due to death or bodily injury to workmen and liability exposures from the third parties.

Architects, engineers and designers form the third block in the risk distribution matrix for a construction project. They may be held liable for defective design, professional negligence and errors and omissions in the conduct of their duty. Some of the risks mainly arising out of professional negligence that architects, designers and engineers face may not be the subject matter of contractorsí all risks insurance but can be covered under a separate professional indemnity insurance. Banks as lenders are faced with the asset risks with the current magnitude of construction projects posing serious problems in the event of a misjudgement in lending. Though, expertise of the main contractor, his financial standing and track record are taken into account while financing a mega construction project, there could still be exposures such as market risks and industry risks.

Components of Project Insurance
Project insurance for large construction risks requires risk treatment on an end-to-end basis. This starts with identification of risks followed by evaluation of various insurance alternatives available and culminates in taking out the suitable insurance covers with relevant and appropriate conditions and extensions.


Components of Project Insurance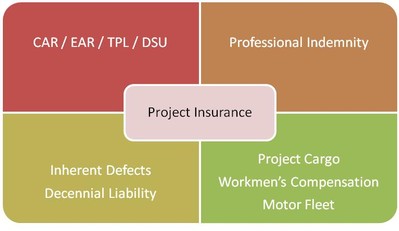 Copyright © Manoj Kumar


A typical Contractorsí All Risks insurance or Erection All Risks Insurance covers material damage to the works or the machinery being erected and includes coverage for third party liability for bodily injury or property damage to the surrounding property. The policy can be extended to include consequential losses or losses due to delay in start up following loss or damage under material damage section. This cover is also called advanced loss of profit. Contractorsí Plant and Equipment insurance pays for the loss or damage to the equipments at site which are owned by the contractors and are used as a tool for the construction work.

Professional Indemnity insurance covers errors and omissions and professional negligence on the part of architects, designers and engineers who may be held liable for losses due to bad design or incorrect professional advice. Inherent Defects insurance or Decennial Liability insurance generally protects the owners against losses due to the threat of imminent collapse of the structure and includes debris removal, costs related to remedial measures and legal expenses.

Project Cargo insurance is another area which requires expertise and skilled attention as such cargoes are generally bulky, extremely expensive and crucial to the works being undertaken. Any loss or damage to such cargo may result in the delay in project completion and further consequential losses. Workmenís compensation insurance pays for the death or bodily injury to the personnel employed at site. Motor fleet for the construction work should not only have comprehensive insurance but should also pick up losses on road as well as off road.

Key Issues in Project Insurance

There are several issues which need to be considered while negotiating insurance for large projects and are as follows:


Sum Insured should be adequately calculated and must include at least the contract value, contractorsí plant and machinery, principalís existing property, projected cost of debris removal, temporary facilities, value added tax and a provision for inflation. To make sure that on site as well as offsite storage facilities are included in the policy. Free issue materials should also be included in case the principal transfers the risk to the contractor under the contract.

Limit for third party liability should be adequate and should clearly reflect the risks. This should be determined keeping in mind the value of the surrounding property and distance from the nearest third party property. In case of underground works, losses to the public utility infrastructure must be kept in mind.

In case the contractor has an annual CPM policy (contractorsí plant & equipment); the TPL at site extension must be endorsed to the policy. Further, the CPM policy must be insured at values equivalent to the replacement cost.

Whether incidental inland transit between offsite storage and project site has been insured.

The project plan must consider weather conditions and open trench works must be avoided during rainy or monsoon seasons. Sometimes, insurers put warranties to this effect.

Professional Indemnity insurance must address retroactive date clause and should reflect the risks and requirements of the architects, designers and engineers. In addition to the claims made or claims occurrence clauses, extended reporting clause must be thoroughly discussed with the insurer. Project specific PI cover is generally not preferred by the insurers and tends to be expensive; therefore annual cover should be sought.

Project Cargo should be insured on a warehouse to warehouse basis while negotiating the deal with the exporter. In the event, the main cargo policy expires at the port, the transit from the port to the warehouse is considered as tail-end risk and is not considered to be a preferred risk from the insurers point of view.

Finally
Fortuitous losses canít be eliminated but can be managed by the combination of risk control and risk financing techniques and therefore a sound insurance programme for large construction projects are integral to any project planning exercise. Large projects require meticulous planning and so do project insurance. Good project insurance not only finances the risk but also helps to implement safety rules at work place. Overall, it is a win-win situation for all: project owners, contractors & sub-contractors, architects and lenders; itís good for the economy too.

Note: This article is copyright intellectual property of "Insurance Professional, i.e. www.einsuranceprofessional.com". Any part of this article may be reproduced only with the express reference to the author, i.e. "Manoj Kumar, ACII, CPCU" and the website. It will be helpful though not mandatory if the author is notified about the reference.